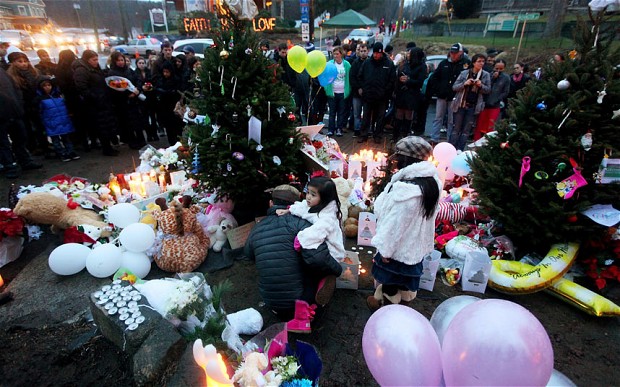 Photo: Mario Tama/Getty Images
Synopsis of the Shooting
On the morning of December 14, 2012, Adam Peter Lanza killed his mother, Nancy Lanza, in their home in Newtown, Connecticut. At about 9:35 am, he burst into Newtown's elementary school, Sandy Hook Elementary School. Armed with a rifle, he killed 20 students and 6 adults before killing himself. Including himself and his mother, there were 28 deaths that day. This massacre is considered the second deadliest school shooting in the history of the US.
The Shooting in More Detail
In their home in Newtown, Connecticut, Adam Peter Lanza, aged 20, shot his mother, Nancy Lanza, aged 52, four times in the head with a rifle. He then drove the five miles to Newtown's elementary school, Sandy Hook Elementary School. Wearing a bulletproof vest and mask, he shot the locked, glass door in front of the school at about 9:35 am. It has been reported that morning announcements were starting at the time, so gunshots could be heard over the intercom system. When Dawn Hochsprung, the school principal, and Mary Sherlach, the school psychologist, heard the gunshots, they rushed to the source of the sounds. Lanza killed them both as they confronted him.
Lanza mainly killed first grade students in two classrooms. In one of the classrooms, Victoria Soto, the teacher, hid all her students in cupboards and a closet. She barely managed to hide all her students when Lanza entered the classroom. She lied to him that all her students were in the auditorium, but six of the hidden students bolted for the doors at that moment. Lanza killed Soto and the six students. He also entered a nearby classroom where he killed the substitute teacher and 14 of the 15 students in the room. The 15th student survived by playing dead.
Throughout the shooting, various teachers have shown truly heroic actions. A custodian ran through the hallways to warn everyone. Kaitlin Roig, a first grade teacher, hid 14 students in a bathroom. Yvonne Cech and Maryann Jacob, members of the library staff, hid their students in a storage room. Maryrose Kristopik, a music teacher, kept her fourth graders safe in a supply closet even when Lanza pounded on her door to let him in. Abbey Clements and Laura Feinstein, teachers in Sandy Hook, brought in students from the hallway to keep them safe.
Aftermath
All schools in Newtown were suspended due to the shooting. On Tuesday, December 18, all Newtown schools but Sandy Hook resumed classes while students from Sandy Hook will go back to school in the new year. The Sandy Hook building is closed off indefinitely because it is a crime scene, so the elementary school students will be relocated to Chalk Hill Middle School. Numerous adjustments are being made to accommodate the smaller students, and parents are working to decorate the school with countless snowflakes to make the school seem like a "winter wonderland". Funds are also being collected, and at least $1.35 million have been donated to support the hurt families.
Adam Lanza
Lanza left no diaries or journals, and he damaged his computer's hard drive before going to Sandy Hook. Thus, investigation on Lanza's motives has been slow. He has been described as "nervous and fidgety", and he has been reported to have been diagnosed with Asperger's Syndrome. To note, there is no known connection between violence and Asperger's. He actually attended Sandy Hook Elementary School, and many of his peers described him as very intelligent but quiet. His mother later pulled him out of the Newtown school system and home-schooled him because she was unhappy with the system. To note, Adam Lanza took the guns he used in the shooting from his mother, who was a gun enthusiast.
Short Blurb on Each Victim
Every person has a story, and you can find the stories of each of the victims here.